After Kim Maggard won the mayoral election in Whitehall, Ohio, she wasted no time putting up signs near common panhandling locations. The signs read:
KEEP THE CHANGE.

Don't support Panhandling.

The majority of your change goes to Drugs & Alcohol.

Help more by giving to charity.
We're moderately offended by the Random Capitalization on those signs (and will remain neutral on the rest of the issue since it's our job to be observers), but Whitehall resident Don Sarubbi did not remain neutral. He took immediate offense after noticing one of the signs for the first time.
Sarubbi admits that he doesn't typically give money to panhandlers, which makes his ardent position especially interesting. He says that he takes issue with the signs because he sees them as propagating the dehumanization of homeless people.
"I just don't think it's a position of the government to sit there and … make assumptions," he told the Columbus Dispatch. "How do you know they buy drugs and alcohol?"
For her part, Mayor Maggard acknowledges that she understands the concern over the link between homelessness and drugs and alcohol. However, as reported by the Associated Press, "she's seen enough studies and statistics to feel comfortable with putting that sentence out there." She says that Sarubbi is the first person to complain about the signs.
This all does very little to appease Sarubbi. He called the mayor to express his concern, and the two have very different accounts of the conversation. Sarubbi reports that the mayor effectively blew off his concerns, while the mayor asserts that Sarubbi was "angry" and "aggressive," making it difficult to have a discussion. She eventually hung up on him.
Sarubbi actually joined Twitter with the sole purpose of making his concerns heard to a wider audience. That's a common tactic among people who wish to bend the ear of the general populous as well as public figures, but it didn't sit well with Mayor Maggard when, as she says, Sarubbi started "following some of her relatives on Twitter and sending them comments, too." Ultimately, Sarubbi's tactics prompted Mayor Maggard to deactivate her Twitter account.
Unfortunately, the public argument seems to have detracted from what are perhaps more important questions surrounding the signs. Are they effective in funneling money toward charity? What is the research behind the message on the signs? Would it make sense to source public input before implementing a sign campaign such as this one?
We don't have the answers, but we do know how powerful a sign can be, and we're not surprised that it has generated a debate.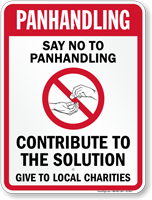 No Panhandling Sign
Category: Trespassing