Funny No Soliciting Signs
(107609)
A quirky message will get the point across quicker! Prohibit soliciting at your home, office, store or building with
Funny No Soliciting Signs
that arrive straight to the point. A sarcastic punch or a clever message is all it takes to make sure solicitors get your no soliciting request.
• Signs come in various sizes, colors and material choices – plastic, vinyl and aluminum.
• Hover over the sign to know all about prices and other sign details.
• Looking to add your own unique touch, go for our custom templates.
Look for this Symbol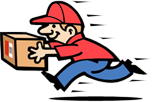 Ships Today
. Order within
00 hrs 00 mins
---
Frequently Asked Questions
Q.
I want to put up a no soliciting message outside my house without being harsh. How can I do that?
Q.
Why are funny no soliciting signs effective?
A.
Funny no soliciting signs are effective because they engage people and divert attention with humor from an otherwise unwelcoming situation. Sometimes these signs have to be read twice to understand the exact intent, thereby reinstating the message. Funny signs demand more attention than a simple No Soliciting sign and can even become talk of the town. Plus, a lighthearted message doesn't hurt anyone visiting your property with hope.
Q.
Can Funny No Soliciting Signs be used for the workplace as well?
A.
Yes, even workplaces are private properties and you can exercise your legal right to refuse uninvited visitors on your property. Anyone selling goods or services like insurance policies, seeking funds or donations for a non-profit organization, asking you to sign a petition, requesting support for a political candidate or joining a religious movement, can be refused to enter your workplace with an unconventional funny sign.
Q.
What is the benefit of buying no soliciting labels in a pack?
A.
If you don't want solicitors to miss your "no soliciting" warning, post signs at multiple locations. Our pack of three reflective labels on a card gives you this opportunity to completely cover your property against soliciting. Residents can use windows, doors, walls, or any clean and dry surface at all property entrance ways to post these warnings.
Also buying a pack would save you some dollars! Buying separate signs or labels would not be as cost-effective as buying them in a pack.
Q.
I want to keep all solicitors at bay, but not hurt the sentiments of little girl scouts and children selling goodies. What will be a good option?
A.
We have just the signs for you! You can order signs that clearly state "Children Welcome Otherwise No Soliciting", "No Soliciting Except Kids", or "No Soliciting Unless You're Selling Girls Scout Cookies!". You can also be more specific with signs like "No Soliciting Unless You're Selling Thin Mints!". These signs are a courteous way to refuse entry to all others except girls scouts and children going door-to-door for a noble cause. Even better, feel free to create your own customized no soliciting sign, at no extra cost, to send out the exact message you want.
Q.
Can I get free shipping if I order only one sign?
A.
Your order must be above $29.95 to qualify for free shipping. In general, two reflective aluminum signs would definitely make up for that amount in your cart. Along with one funny no soliciting sign, you can order a sign from any of our categories - private property, video surveillance, beware of dog, trespassing, guns, or any prohibition. You can even order a sign post or sign mounting hardware from us to reach the free shipping amount.
Q.
Can I customize my own no soliciting sign with a funny message?
A.
Yes, we have semi-customizable no soliciting sign templates wherein you can add your own funny message. Everyone has a different idea of being funny. A message can be funny for some but offensive or not funny at all for others. With easy and free customization, you can design your no soliciting sign in the manner you want. Call us to design your sign from scratch.
Q.
I want quirky no soliciting signs but elegant ones, to suit my upscale property. What are my options?
A.
ShowCase Wall Signs offer elegance as well as durability. Architecturally subsurface printed signs feature an elegant white border forming a beautiful motif on top. These Designer No Soliciting signs match plush decors and don't let you compromise with the aesthetics of your property.
You can also try the dome-top SignatureSign made of 3M High Intensity (HIP) reflective material. Distinctive profile gives an upscale look to this line of SignatureSigns.
Q.
What is the material and size of your Funny No Soliciting Yard Signs?
A.
Funny No Soliciting Yard Signs contain a 40 mil thick aluminum sign with a 3 feet stake made of baked-enamel coated steel which is extremely hard to bend, unlike competitor offerings. Rectangular signs measure 10 inches x 12 inches while the shield shaped sign comes in 12 inches and the octagonal sign measures 10 inches. Sign is laminated for extra durability and printed with top-of-the-line 3M inks.