Private Community Signs
(36823)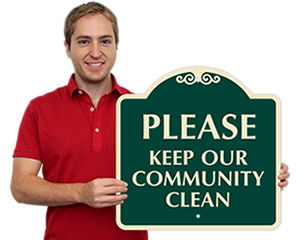 Your neighbors know it takes a village to keep a
community clean
. Minimize the mess with the right signs to encourage everyone to pitch in and increase cleanliness and safety.
• Also, find a range of community watch, quiet, custom, and other community safety signs.
• Heavy-duty and high-intensity reflective aluminum lasts for years.
• Questions? Call our friendly support staff to order your perfect sign today.
• For more information, visit our - Private Community FAQs
Look for this Symbol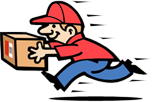 Ships Today
. Order within
00 hrs 00 mins
---
Other Community Signs
(36828)
Frequently Asked Questions
Q.
What are the uses of community signs?
A.
Community Signs have a myriad of uses that help create safer and cleaner neighborhoods. Keep Community Clean Signs ask people not to litter or dump illegally. Various prohibition signs prevent activities like trespassing, loitering, illegal parking, speeding vehicles, and more.
Community Quiet Zone Signs help maintain a peaceful environment. Community Crime Watch Signs prevent burglars and other criminals from planning anything.
Q.
Can community safety signs deter burglars and intruders?
A.
Community Safety Signs like
Crime Watch
, Community Watch or
Neighborhood Watch Signs
are an effective tool in threatening miscreants looking to break into vacant homes. Private Community No Trespassing Signs leave no room for confusion among potential criminals and make it clear that activities like trespassing, loitering, or soliciting are strictly prohibited. You can add a layer of security by posting signs that communicate that all suspicious activities will be reported.
Q.
How can I install a Do Not Litter Sign right in the middle of our community garden?
A.
Most definitely, our
LawnBoss No Littering sign
will fit the bill. In this kit, you get a "Please Don't Litter, Help Keep Your Community Clean Sign" made of 4 mil thick aluminum and a baked enamel steel coated stake that is 3 feet tall. Attach the sign to the stake with the help of hardware included with the kit. Heavy-duty, bend-proof stake has a tapered end for easy insertion into the lawn.
Q.
Are these community signs visible at night as well?
A.
Yes, our reflective community signs are visible in dark and dim light as well. Aluminum signs are offered with 3M's reflective sheeting that reflect light when a vehicle's headlight or a flashlight hits the sign. There are three grades of reflectivity to choose from - engineer grade, high intensity, and diamond grade.
Q.
We want to convey our community rules without disturbing the aesthetics of our property. What are our options?
A.
Try our custom
SignatureSigns
. These signs feature a dome-shaped top and are beautifully bordered with a motif on top. You get four elegant color schemes to choose from - Hunter Green Normal, Hunter Green Reverse, Burgundy Normal, and Burgundy Reverse. Just type your headline and your community rules arranged in separate bullet points.
Q.
Can I have our community's name printed on the sign?
A.
Yes you can. Just click on a customizable sign template (look for a custom flag on the top right corner of a Community Watch Sign). Enter your text which can be your community's or neighborhood's name, county's name, sheriff's/police department's or law enforcement agency's name, or anything else you want. You can adjust the text size, change the font, alignment, and spacing of your text. All this is absolutely free.
Q.
What if my ordered signs are damaged in transit?
A.
Utmost care is taken while packaging signs so that they don't get bent, deformed, or damaged in transit. If, however, due to the carrier's carelessness or any other reason, the signs get damaged, you can
contact
our customer service team, they will be able to help immediately. See
our terms
for more detail.
Customer Reviews