Posted signs
are an effective way to let everyone know that you won't tolerate trespassing or loitering. Alert passersby to your rules with an unmistakable notice on your property.
• Sure to be noticed on any property or estate.
• Easy to install and lasts for years. Choose from our vivid signs below, in a range of reflective grades.
• Have any questions? Call our customer support team today.
• For more information, visit our - Posted Signage FAQs
Look for this Symbol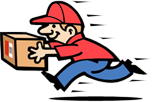 Ships Today
. Order within
00 hrs 00 mins
---
Frequently Asked Questions
Q.
Can Posted Signs be used only to deter trespassers?
A.
Posted signs are used to follow several state statues and under
Environmental Conservation
Law to prohibit hunting, fishing, or trapping, along with trespassing. Landowners who want to prevent timber theft may also post these signs. You can also restrict trespassing on a motorized vehicles on your property with these signs. Other activities that can be discouraged by mounting signs with "Posted" heading are bringing animals or weapons on the private property.
Q.
Fluorescent, reflective, or non-reflective - which Posted Signs are the best?
A.
If you're only looking for daytime visibility, standard non-reflective aluminum signs would work well. Reflective signs are a step forward because they offer great visibility at night too. Reflective Posted signs for property come in three grades - Engineer Grade, High Intensity, and Diamond Grade. However, the best reflectivity comes from
fluorescent posted signs
which combine the high conspicuity of fluorescent colors with great nighttime reflectivity as well as wide-angle performance of 3M micro prismatic lens technology.
Q.
I don't have a sign post or fence. Can these signs be posted on trees?
A.
Signs come with pre-drilled and pre-cleared holes and can be easily installed on trees or any other post using screws and bolts. Signs have rounded corners - for easy handling and a professional appearance.
Q.
I need posted signs for my large property. What are my options?
A.
Consider posting more signs on the large property so that no one misses the warning. Order bigger size for your signs so that text can be read even from a distance.
Posted SignBook™
contains twenty 7" x 10" plastic signs so you can post your entire property with just one book.
Q.
What is included in the posted yard sign kit?
A.
Yard sign kits contain a Posted Sign made of plastic and a stake that is 24" tall and has a tapered base for easy installation in the yard. These kits are called our
EasyStake Sign kits
. These signs have an outdoor life of 5 years at least. Another option is
LawnBoss Sign
and stake kit. This kit contains a 40 mils thick aluminum Posted sign with a 3' stake. These signs are costlier but last for at least 10 years outdoors.
Customer Reviews