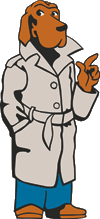 • Did you know that you can stop bullies? Bullies are a big problem for kids, but you have the power to stop them. When you see someone being bullied, remember the tips below and help stop a bully.
• Speak up. Tell the bully what you think of what's going on. By saying, "that's not funny, let's get out of here" or something similar, you can help stand up for another kid.
• Be a friend. When kids go somewhere without their friends, they are more likely to get picked on by a bully.
• If you see someone being bullied, get an adult. Either tell the adult what is going on or ask the adult to talk to the kid who is being bullied.